The Gatun Lake, a freshwater reservoir that provides water volumes to the Canal, along with water to the nation of Panama, has seen the water level drop significantly throughout this year.
Every transit of the Panama Canal causes a loss in freshwater from the Lake, a source of concern to the authorities. As a result, permissible transits through the Panama Canal have been trimmed significantly in order to minimize further impact on the water levels.
There is also a reduction in the number of permissible transits via the Canal, a number that is being further reduced between the time of writing and 1st Feb 2024. By that date there will only be a total of 18 transits per day (of which only 8 will be for the larger NeoPanamax locks), far below the 32 a day that were permitted as recently as 30th July this year. Transits are therefore restricted to vessels that have booked, a fact that has pushed the cost of available spaces into record levels; the latest auction of a transit fetched US$ 3.9m, an increase of US$ 1.05m compared to the previous record, set only the week prior.
This trimming of Canal capacity is predominantly of great concern for Container, Dry and Gas carriers, who remain the largest users of the Canal, and in particularly the NeoPanamax locks. Vessels operating on defined timetables and routes, such as container vessels, will also have the advantage of being able to book advance transits, something that tramp vessels, such as tankers, are not able to do.
As a result, it likely that the Panama Canal, whilst the restrictions remain in place is likely to be effectively closed for the conventional tanker trades, forcing vessels to take the much longer routing via the Cape, or longhaul via the Suez Canal.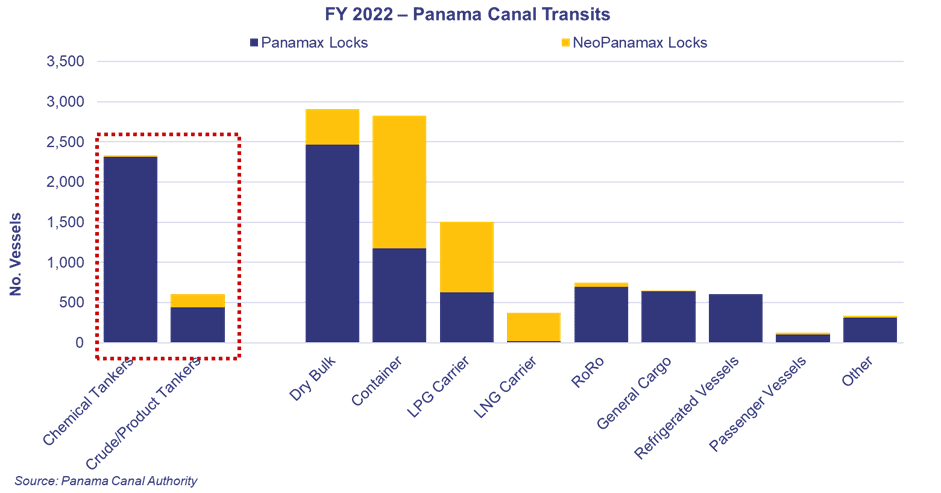 Whilst the volume of tankers, not accounting for chemical vessels, using the Canal is relatively limited, the net effect for tonnage in the region can still be substantial. An MR lifting from Houston to Coronel, would previously have seen a laden leg distance of 4,428 nautical miles The same voyage forced round the Cape will result 8,965 miles, a 102% increase. Vessels will be tied up for longer and demand for tankers will increase as a result, helping to support freight in the region.
In the immediate term the effect has seen many tanker owners reluctant to offer in for any business heading south of the Canal, due to concerns about when they will be able to get their vessels back. There have begun to be significant premiums on offer, however whether these tempt owners to commit, remains to be seen.